Keller Ford looked to CDN Design for a site that was attractive, fast loading and continuously updated with little effort.

Strategy: provide a complete package that allows a large selection of autos, if not all, to be maintained and offered on-line with ease.

To this end, we developed a custom point-n-click database application was written to easily manage a large portion of their inventory on-line.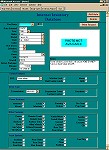 click for a larger screen shot